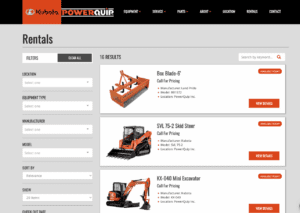 4 Ways Your Website can Grow Your Profits
The equipment industry is constantly evolving. Gone are the days of customers showing up at the store and kicking tires for an afternoon trying to decide which equipment is best for them. Today, customers show up educated on the equipment that they need – looking to the dealership to reassure them they're making the right decision.
Dealers have to change their business model as consumer behavior changes and take advantage of the technology offered through TracTru to provide potential customers with the information they need to make the best decision for them and the convenience factors for a seamless transaction.
So what are 4 ways your dealership can use your site to grow your profits? Glad you asked. 🙂
1. Connect with Potential Customers (Even if you don't have the inventory in stock)
The pandemic has created inventory shortages across the equipment industry. This has affected the ability for equipment manufacturers to produce the supply of equipment needed to meet the demand. Many dealers are left with empty lots and a waiting list of people who want to buy.
Most likely, dealers are missing out on opportunities because customers are not seeing the inventory they're looking for on the website. To make the most of this situation, TracTru has enabled pencil banners on inventory pages. This gives the dealer the opportunity to connect with customers who might not see what they're looking for on the website. The benefit of doing this is your capturing the customers information. By helping this customer even when you don't have the inventory you're giving your dealership the opportunity to earn their service, parts and accessories business in the future.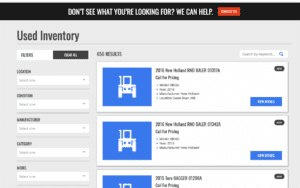 2. Reconnect with Previous Customers
Many times we get so focused on selling the machine and moving on to the next sale that we forget to nurture the customers we already have. Our email marketing tool Current gives you the ability to email your previous customers directly from the backend of the website. You can segment your email list in groups to email specific items customers would be interested in based on their previous purchases at your dealership. This is a great way to stay top of mind with previous customers and get them back into the store for service and parts.

3. Sell / Trade Opportunities
With the new inventory shortage there's never been a better time to focus on buying or trading used equipment. The automotive industry does a great job of this. We've all seen the car dealer ad offering to buy our car for a premium price. This is popular because inventory is so scarce and the used market can be very profitable.
Take some time and come up with a strategy for buying used equipment that works for your dealership. Create a page on your website highlighting that your dealership buys equipment at a premium. Use your homepage real estate to drive traffic to the page. This is a great way to be proactive and make the most of the inventory shortage.
4. Rental
Having a rental fleet is a great way to increase your dealership's profitability. With the inventory shortage many people are looking to rent the equipment they need until it's available for purchase. There are also people looking to knock out a specific project on the weekend and renting is a great option for these people.
Our new rental scheduling tool makes reserving equipment seamless for customers, and saves time for your rental management team. The filtering options make it easy to find the equipment you're looking for, and the calendar view helps you see when it's available.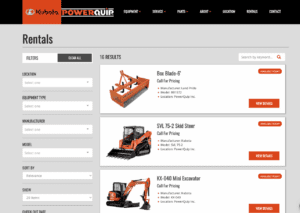 If you're interested in any of these features, reach out to our support team today. All the features mentioned in the post are added value from our team and no additional cost for Kubota dealers. We want to be a great partner and resource for our dealers to grow their business.